Apeo free Non-ionic wetting agent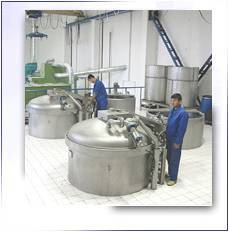 Apeo free Non-ionic wetting agent
Price And Quantity
Kilograms/Kilograms

40-350 INR
Product Description
Technical Function:
Wetting &Detergency in Pre-Treatment process
Technical Composition:
Performance blend ofnon-ionic surfactants
Attributes:
Sustained low foamthroughout the process cycle
Eliminates the needof defoamer & deaerators
Highly efficientwetting, rewetting & scouring aid
Essentially forscouring of yarn in package-dyeing
machines and forone bath scouring bleaching operations in soft flow machines . APEO free.
Technical Properties
Appearance: Clear to light yellow liquid
Ionicity: Non-ionic
Constitution: Synergistic blend of ethoxylates
Application & Dosage
SCOURTEX JSL ishighly recommended for use in the scouring of yarn, knit fabrics. The good penetration into the core of theyarn ensures very good wetting, rewetting, and absorbency. A dosage of 0.5% -2.0% on weight of fabric or yarn is recommended. However a dosage of 0.7-0.8%was found to be optimal. Suitable for cotton as well as synthetics. Optimaldosage 0.7 to 0.8% on weight of yarn. Also suitable in cheese & cabinetmachines.
Shelf Life: One year from date of mfg.
Packing: 50 kgs HDPE carboys.
Disclaimer:
The aboveinformation is correct to the best of our knowledge;
however therecommendations are without any engagement on
our part as theydepend upon the conditions of usage, which
vary from plant toplant.