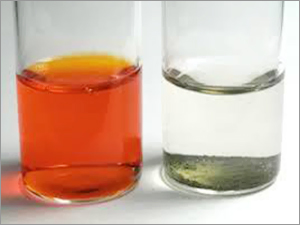 Aquaclear - XL
Product Description
PRODUCT FEATURES:
AQUACLEAR-XL is a liquid grade colour removal compound This Liquid form of AQUACLEAR-XL will greatly simplify handling,dilution and feeding procedures. When used as recommended. AQUACLEAR-XL completely absorbed by the flocculated solids.

APPLICATION BENEFITS :
Good Colour Removal Efficiency Much less sludge compared to LIME AND FE SULPHATE Good Clarity, reduced turbidity, Better RO efficiency,
Reduction in power cost.

DOSAGE: 5% STOCK SOLUTION TO BE PREPARED This is then dosed into the raw effluent for optimal results.

SPECIFICATION :-
Appearance :-Clear to light yellow liquid
PH of 0.2 % :-5 to 6 solution in distilled water
Solubility:-Completely soluble in water
Shelf Life :- 6 months
AQUACLEAR-XL is available in liquid in 50 Kg./200 Kg. H.D.P.E. Drums.

Disclaimer: The above information is correct to the best of our knowledge, however the recommendations are without engagement on our part as they depend upon the conditions which vary from plant to plant.
Contact Us
Plot No. 567/568, Bhoir Compound, Val Village, Anjur Road, Bhiwandi, Thane, Thane, Maharashtra, 421305, India
Phone :+918037303431