ETP chemicals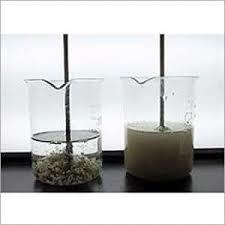 ETP chemicals
Product Description
Product Features:
SETIFLOC-PLUS is a HIGH molecular weight ANIONICflocculant in granulated powder form. This product is designed to enhanceliquid/solid separation in a wide variety of industrial applications like
Clarification, Settling, Thickening, Concentrating,Dewatering, Floatation, Filteration
Â
Dosage: 0.1%solution to be prepared and dosed to the effluent. Rapid Settling is observedand minimising turbiditybyencapsulating suslended flocsefficiently.
ApplicationBenefits:
Superior floc formation; Major effects yielded withlimited use; Faster settling rate & clarification;Use over a broad pH; Superior filteration & dewatering;Combined use with organic coagulant or cross treatment with cationic polymergives superior treatment effects; Removal of suspended solids, BOD, COD andphosphate in waste water treatmentplant
Â
Disclaimer: Theabove information is correct to the best of our knowledge, however therecommendations are without engagement on our part as they depend upon theconditions which vary from plant to plant.